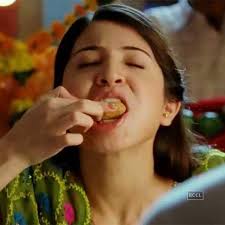 GolGappe and Grammar – a shortstory.
I read somewhere,  Kids need wings to imagine and fly. Well, My kids are damn funny at times when they open their wings of imagination to fly. Sunny boy imagine's face of mumma in clouds, mountains and some time in bed-sheet, phew. The Princess thinks mumma knows everything and test my knowledge often. Kids love to cook stories and me love to her them. I am sharing a short story here Golgappe and Grammer a Short story…
Princess: "Mumma tell me why Gol Gappe are called Gol Gappe?"
Me: "No idea, It is like that since ages. Gol Gappe are called Gol Gappe."
Princess: "I know why they are called Gol Gappe."
Me: "Really, Why, I mean what's the Logic?"
Princess:"Its Grammar behind it".
Me: "What are you saying, How come Grammar is behind it?"
Princess:"Mumma, Let me explain. Now, When you go and ask Golgappe wala Bhaiya. So obviously you will not eat one. You will ask for 2 or 3 or 4 or 5."
Me: "Ya, who will eat only one, So.."
Princess: "So, that's why, it is Gol Gappe you know – more than one, have more fun, So Gol Gappe is plural. Hence Grammar behind it".
Me:"So, What is behind all this Gol Gol discussion."
Princess: "Simple lets go and have Golgappe. 🙂 "
Moral of the story. It's not always brain, sometimes stomach or taste buds too are involved to cook up a Story.
Now let me tell you one thing about Golgappe. Well, I  love eating Golgappe But, the logic with Grammer, I came to know today. Golgappe are available in almost every street in India.  Golgappe AKA Puchka, Panipuri etc. The taste is tangy as they are filled with tamrind and green mango water.
Yumm, Guys really its damn tasty. You can also cook the same at home. What are you waiting for Just go and have it.
I am already drooling…