Motherhood & Life – Story of Marathon Runner, Mrs. Gurleen Arora
Sometimes the strength of motherhood is greater than natural laws. – Brainy Quotes.
We moms dream to give a better and a healthy life for our kids. We pray and live our kid's dreams and we forget about ourselves. Most of the moms even restrict them from dreaming something new.Today, I will share a story of a Mom who had a dream to become a marathon runner and she is fulfilling it with dedication and love. She is inspiring many, equally, she is enjoying her motherhood. Marathon Runner – Gurleen Arora who had successfully completed 20 marathons including 10,21 and 42 Kms and she is always on her Toes to participating in a new marathon.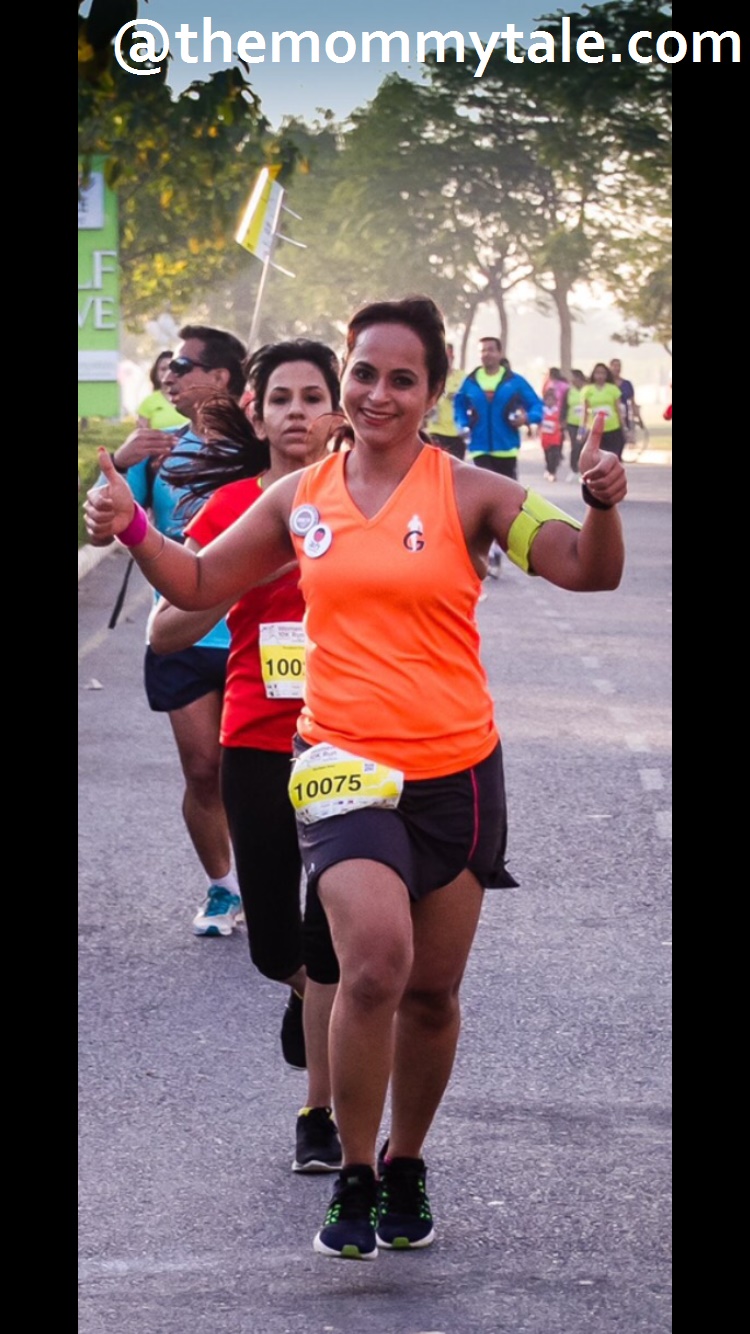 Gurleen Arora, graceful and gratified lady, born and brought up in Delhi, She is graduated from Delhi University and holds a diploma in Technology. She started her career at a technology firm in Delhi and got married in February 2002. She is a mom of a lovely daughter and a son.
Marathon Runner – Gurleen Arora shares a glimpse of her journey being a mom. She adds…
My first child my daughter arrived in our lives in 2003.  My Husband is a Chartered Accountant and was working with a Firm as Partner. We moved to Bangalore in August 2003 and I started my work again with Dell Computers in evening shift. My daughter use to comes back around 4 and my husband was the helping hand to take care of her in my absence. He again shifted the base to Hyderabad in 2006 and then started overseas traveling very frequently. I didn't join any organization and opted to be a full-time Mom and take care of our daughter. We shifted back to Gurgaon in 2010 and by that time, we planned our second Kid.
I faced critical medical issues such as hypertension, High BP and increased level of thyroid resulted in Sudden weight gain (90kgs+). Under strict medical supervision, our son was born in 2013 who came as a blessing in our lives.
Marathon Runner – Gurleen Arora is a well-known Marathon runner among online mommy communities. She is motivating and inspiring many moms. Marathon run is not a piece of cake, Here she shares a brief of being a Mom to a runner…
I actually wanted to lose my post delivery weight and live a healthy life. My husband was working in an organization which focuses on People and their well being. He started participating in few marathons and I thought to give it a try. In August 2014, I participated in SBI Pinkathon which was 10 KM all women run. It was a great experience and I never looked back from there. During the event, I met few girls from a group named Gurgaon Road Runners" and I also got myself hooked to the same. The coach – Siddharth Choudhary runs this voluntary group training many aspirants on healthy living and off course training them on running. I had many challenges – the biggest one was to get time for this passion. We changed our Lifestyle. Late night parties, movies and hanging out came to near end. I started waking up early in the morning around 4 am, started participating in daily events organized by a group as well as started the gym in my own community. I had a support of my husband who used to take care of our elder daughter & send her to school while the younger one asleep.
With so many women and elite runners around me, I started enjoying running and participated in almost all half marathons (21.10 Kms) in Delhi NCR. However, my aim was always – Full Marathon (42.20 Kms) which happened in Mumbai 2017. My mentor, Siddharth Choudhary, guided me and with all necessary support & training, I participated. As a Mom, it is very difficult to manage long hours training & running on road. However, if you have the willingness and your family supports, nothing is impossible. For Full marathon training, we use to run for 4 to 5 hours in afternoon, generally, Sundays which means your family time over the weekend gets affected badly. Participation in Mumbai meant at least 3-4 days travel and managing the kids. Unless you have your better half support, this is not possible. I successfully completed my Full Marathon in Mumbai in 5 hours 9 mins.
Running practices and motherhood together, Yes, You need a balancing art here and we moms need tips from her. Marathon Runner – Gurleen Arora She adds…
You need to cut down wastage of time from your daily routine and focus on yourself & family. We don't watch any daily soaps or TV. I don't indulge outings and friend meetings unless it has a purpose. By the time, my kids wake up, I am back with my morning run in apartment or Gym. My husband generally goes to the office early and then I have enough time for myself. I spend quality time with kids when they are back from school.  One more thing I would like to share here. Our running events or Marathons are generally followed by a celebration of success.
I lost 30 kgs and inspired many around me to start making a change in their lifestyles to lead a better life. Few tips from my side on eating habits:
I never diet but don't eat or drink junk food.
There is no direct sugar intake in any of my meals.
Don't Skip any meals – This is the biggest myth many believe.
Meal size should be small and try eating small portions with a gap of 2-3 hours.
Loads and Loads of water.
Take luke warm water in morning with flax seeds.
Your food should have a good portion of Proteins and Vitamins.
Always check calories mentioned on the packets, it will give you an idea, how much to eat.
Always eat before you do any physical exercise. A banana or sandwich or nuts, whatever you like. Also, eat post you finish your regime.
You run for a cause and inspire many. Mom's who wish to run for a cause here is her suggestions for you…
I Always had an urge to do something in my life because it's too short and uncertain, I run for a cause " Beti Bachao Beti Padao".
Do whatever makes you feel happy – Running, Cycling, Swimming, GYM, Yoga, Zumba or keep juggling between them….we are fortunate enough to have so many options, go get it.
Remember life begins at the end of your comfort zone. WORK HARD DREAM BIG NEVER GIVE UP.
Being a Marathon runner, Marathon Runner – Gurleen Arora shares her achievements…
We are a nuclear family and husband mostly on travel managing things were indeed difficult. With a young kid of 3 and half-year-old only, support and my backbone is my husband and my elder daughter who stands in rain n shine close to me which is a pure bliss.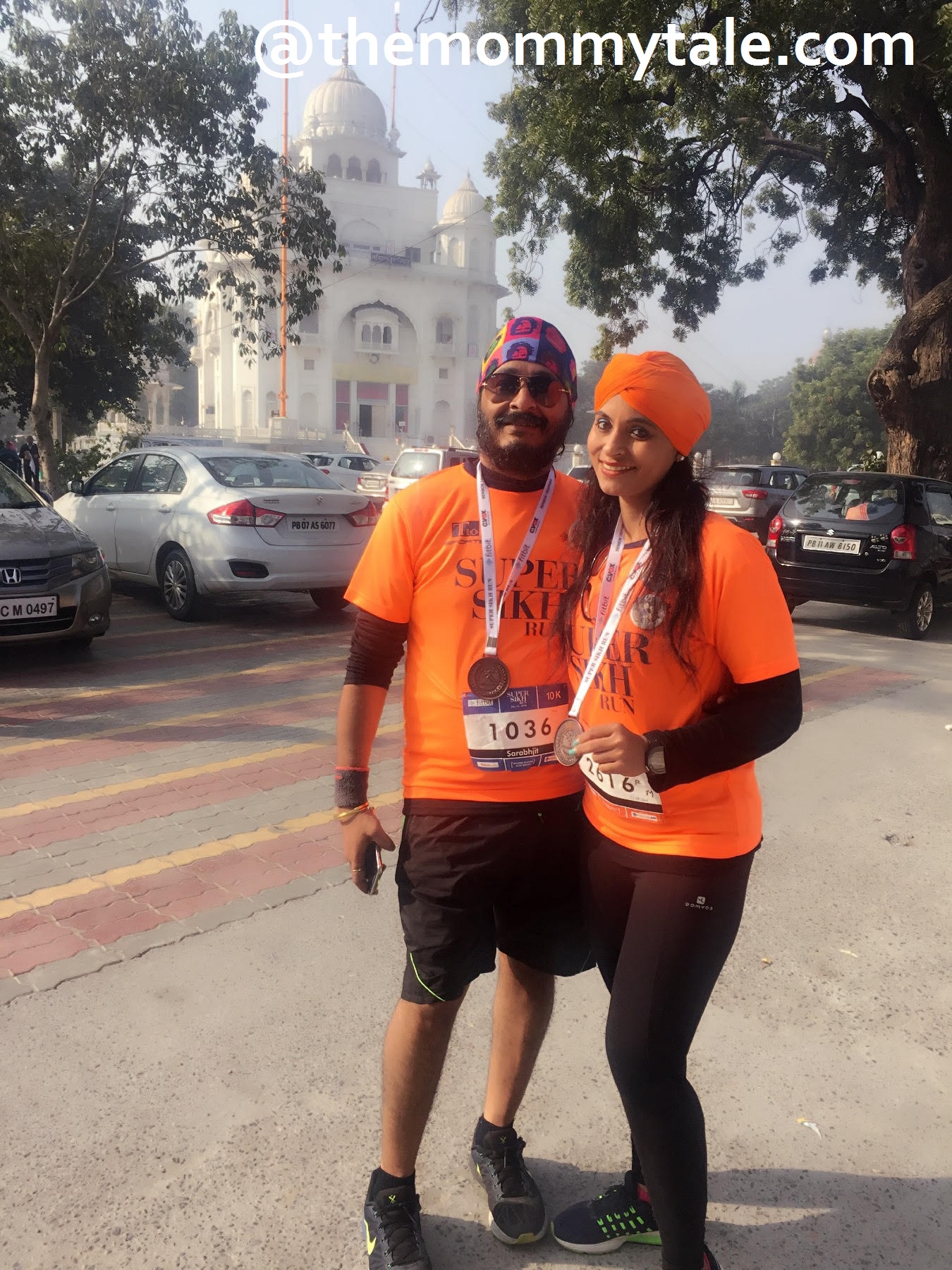 Running is nothing more than the series of arguments between the part of your brain that wants to stop and the part that wants to keep going. It's always nice to have an outlet that has such a positive outcome. Moreover, there are no right or wrong decisions in life, it's all about taking a decision and doing all that it takes to make it right.
Do read a story of a Mom became a Model
My mother prayed for me every day and I'm convinced those players supported me always.
I've done n dusted a good number of marathons including SBI Delhi Pinkathon -10 Kms run (from 2014 to 2016), Women 10K (2015-17), Airtel Delhi Half Marathon (2015-2016), IDBI New Delhi Half Marathon (2016-17) and Standard Chartered Mumbai Full Marathon (2017). My personal best in 10K is 56 min and 05sec, in 21k is 2h, 9 mins, and 30 sec and in 42k is 5h 7 min and 51 sec.
My urge for leading a healthy life didn't stop with just running and with "Rolling Wheels to Timber Trail", I completed my first ever 300 km Bicycle ride non-stop in December 2016.There were total 42 riders with more than half- Women's!!!
For beginners, there are pacers in the running who will run along with you to make sure that you achieve your target time. I was honoured and humbled when selected as a pacer for the first time in "Sifti Da Ghar" Amritsar Half Marathon.
Have been fortunate enough as I was chosen to be a " Guest of Honour" in Indus Towers on the fabulous eve of women's day to share my experiences.
Have been featured in Times of India as " Mums the word.. Meet the marathon ladies"
"Do not wait, the time will never be just right, the size of your dreams must always exceed your current capacity to achieve them and without FAITH nothing is possible…with it nothing is IMPOSSIBLE….
Won a prestigious award from Grahalakshmi magazine for the title "Ms. Fit and Active"…a beautiful platform to showcase my talent and passion for walking on ramp with a mesmerizing theme of Womanhood…
I'll be pursuing Reebok certified fitness from professional training soon to make a fit world and eradicating the negativity and Health issues which can be cured without medicines and promote healthy lifestyle. I still feel and believe that I need to achieve a lot in life, it's just the "B" of the Beginning.
Young moms remain worried about weight loss, health and they feel stuck at times. Marathon Runner – Gurleen Arora advise for them…
The only thing I want to mention here is that kindly keep your health on top priority, as it's only your body where you reside and it requires just your sweet quality time.
Fitness begins at home you don't have to commit to expensive gym membership to get yourself in shape,
You are your own gym, The bible of body weight.
Being a mother is learning about strengths you didn't know you had, and dealing with fears you didn't know existed. Remember Motherhood is the greatest and the hardest thing on this Mother Earth and we all are proud of ourselves that we have done complete justice.
Few tips for working women:
Climb stairs, reduce and then eliminate escalators from your life
Walk whenever you find some time from your hectic schedule
Change your desk set-up, make it colorful with loads of pics you like
Walk between your daily routine, don't sit at one place for long hours
Watch your steps- Gift yourself a good smartwatch and track what you do, it will make you feel happy.
If you really want to do something you'll find a way.
A healthy Mom can raise a healthy Humans.
I Thank you, Mrs. Gurleen Arora, for sharing her journey with us it is truly inspiring and I wish you All the Best for future. I am sure her journey has touched you.
Stay tuned for more Inspiring stories of Motherhood and Life. you can also follow us on.
Facebook – Here
Twitter – Here
Instagram – Here
If you have an inspiring mom around you or a story to share feel free to mail us at themommytale@gmail.com