Motherhood – Everything has changed and yet I am, more me than I have ever been – by Iain Thomas.
We moms do have dreams, Giving birth to a child and raising the one doesn't mean a mom should stop dreaming. Her profession, Goals, and achievements do exist, she needs a support and courage to pursue the same. Today, we are sharing a story of a mom who is a successful Model and winner of Mrs. Delhi NCR conducted by GLAMOUR GURGAON. Mrs. Anuradha Bhayana – Mrs. Delhi NCR 2016 and a well-known model in National Capital Region.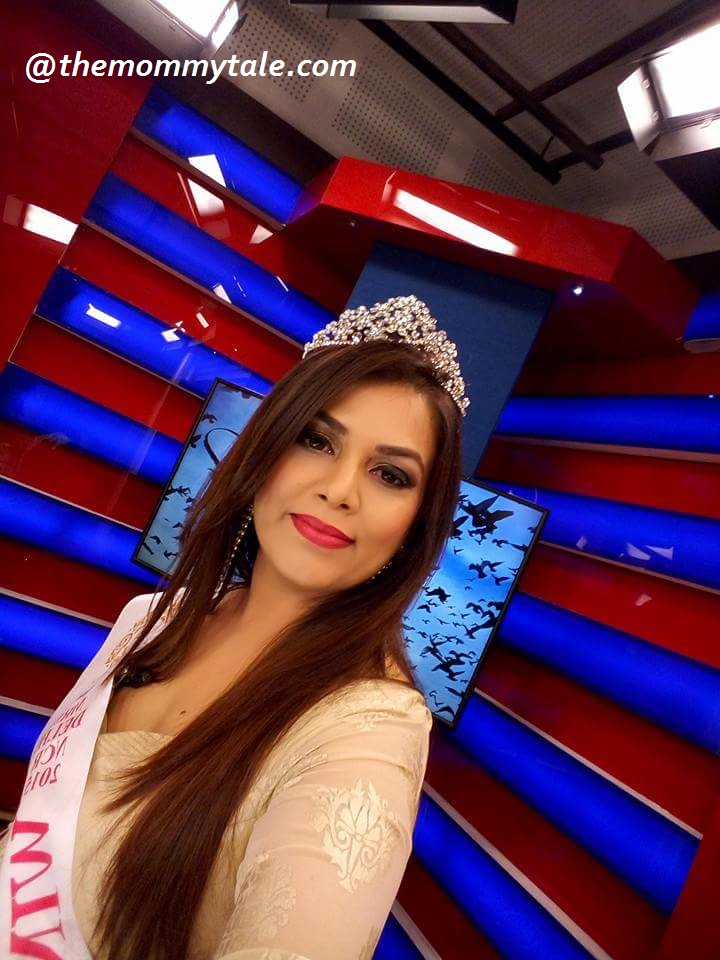 After Marriage, She became a model and participated in a Mrs. Delhi NCR Contest. Here is Mrs. Anuradha Bhayana – Mrs. Delhi NCR 2016 shares her thoughts with us…
I am a working mother of a beautiful daughter of 6.5 yrs married for 9 years from Gurgaon. I am born and brought up in Jaipur Pink City. I always believe that every woman is blessed with an inner beauty. I believe in life with principles to follow your dreams, love, and care, live and let live rules. I pursue my dreams with a lot of enthusiasm and zest to achieve something Big in life. So far from an airline professional, now working with an education  management  company in Gurgaon, I always believed in myself. With a modest upbringing, my journey so far in this magical phenomenon called Life. I had a lot of opportunities earlier in life, but I chose what I thought was right for me at that point in time. I would certainly attribute my success for being passionate about my dreams.
It is my pleasure  to take this incredible opportunity for married women to be able to do beyond what is expected out of them.
I want to be a role model for my daughter because she thinks I am beautiful.
Mrs. Anuradha Bhayana – Mrs. Delhi NCR 2016 shares a glimpse of her motherhood here.
Motherhood is a journey, with ups and down at the same time. From the first moment,  it takes you to places you never thought existed, allows you to marvel at the most precious sights and turns your view of the world upside down. For me, it is cool and crazy both.
Six years ago I embarked on a journey that has taken me for a spin. By becoming a Mother I have suddenly landed in a place you could only describe as Wonderland. And I was Alice.
I feel so happy Helping my girls through all the things life throws them, while also lifting them up so they can reach for the stars and grab one! That's what being a mom is all about—always being there—the shoulder to cry on, the cheerleader to never give up, the one that gives the standing ovation, the familiar hand to hold."
I followed my daughter's lead and since then she has taken me to the most remarkable places; to sites where you really find yourself, gain faith in humanity and live life to the fullest. While I try to show her what the world looks like, she is showing me how this world feels like.
I would like to suggest few Tips from my journey
Know your priorities. …
Be proactive. …
Make time for yourself.
Involve your Life Partner
As we all know, Patience is the key
Have a routine in place and stick to it
She is a model now and started her professional journey after she became mom . Here is what Mrs. Anuradha Bhayana – Mrs. Delhi NCR 2016 says…
When I was in college, I had this fascination to participate in my yearly college fest. During my 1st first till the final year, I kept thinking to participate, but I was shy to take that step forward.  I always wanted to be on stage, wanted to be famous, mark my own identity just like any other college student. As the life progressed, other things took priority, and my dreams got lost somewhere. I pursued my further studies, whatever I did I started excelling and that gave me confidence that by putting your hard work you can achieve whatever you want.
I got busy with my job & my routine life and then I got married to a very loving person and my in-laws are supporting and a  wonderful family.I took responsibilities and started my new life. I was very happy, but wanted to pursue my passion for being on stage and marking my own identity which I thought was still missing in my life. I started looking for avenues. I was fortunate to have such family who supported me to follow my dreams. I think it's never too late to pursue your dream.
The only thing I knew that I have the ability to work hard and that's the only thing I did. I worked very hard to achieve my dreams, I never gave up
On this journey, I realized the key things that are important to attain what you want in life. I would love to share some of them as a mom I followed.
Don't feel guilty about your work
Stay in Touch With Children and Teachers during the School or daycare hours
Be There For Your Children but that doesn't mean all the time.
Loving your job doesn't you are a selfish mom.
Spend quality time with your child.
One fine day I received a mail in my inbox for the Mrs. Delhi NCR pageant. My dream revived, I applied, got selected and that opened a new chapter in my life.
Professionally, I am an ex Airline professional, worked with a Business consulting group,BPO and now co-founding an online learning and preparation platform for students who appears for Olympiads exams.
In last year and half she has excelled her love towards her passion. Here is a recap of her modeling accomplishments.
There is no looking back, I always believe in. I worked will many like minded and lovely souls to name a few.
Photoshoot for famous designer Lalit Dalmia, famous photographer Mohit, Photoshoot for wed about company and famous makeup artist Shubhangi trehan
Jury for the auditions for upcoming TV show heaven n hell.
Guest of honour for one republic day event in one NGO. Face of the pageant Mrs Punjab Pride of Nation.
Special appearance for the club showshaa kingdom of dreams
Guest of honour for Supermodel international.
Walked for few garment and jewellry designer in the event "Fashion for you".
Appeared in Delhi zoom magazine, Delhi now magazine.
Walked for the book launched of famous pageant grooming mentor Rita Gangwani
Inaugurated one of the chain of salon of famous makeup artist Riya Vashist.
Auditions for rising star of India fashion show for kids across pan India
Media coverage and Interview on Prime New,ABP News , Samay News, India news , Aaj tak, Bhaskar News.
Guest of honour for hotel Aanya.
Walked for kids fashion show on the finale.
Face of the pageant Mrs Delhi NCR , jury in the auditions and finale event
I have been fortunate to excel in every role in my previous organizations.It is indeed difficult to attain Work life balance being a mom and professional together. Mrs. Anuradha Bhayana – Mrs. Delhi NCR 2016 shares her mantra with us.
I believe one should remain focused and needs following to attain work-life balance.
Time management
Organized
Family support
Many  Mom's out there who would love to become a model one day. Here are some suggestions from Mrs. Anuradha Bhayana – Mrs. Delhi NCR 2016 …
Believe in yourself.
Opportunities can knock at your door at any point in life-like it did for me. It is you who will decide what is good for you at that hour of need.
Attempt is important (Keep trying)
Coming out of your comfort zone is tough in the beginning, chaotic in the middle, and awesome in the end because in the end, it shows you a whole new world
I'd rather attempt to do something great and fail than to attempt to do nothing and succeed.
You should give an attempt to what you really want to do in life. And Never Give up.
I Thank you, Mrs. Anuradha Bhayana – Mrs. Delhi NCR 2016, for sharing your journey with us it is truly inspiring and I wish you All the Best for future. I am sure her journey has touched you.
Read more inspiring stories of motherhood. https://themommytale.com/marathon-runner-gurleen-arora/
Stay tuned for more Inspiring stories of Motherhood and Life. you can also follow us on.
Facebook – Here
Twitter – Here
Instagram – Here
If you have an inspiring mom around you or a story to share feel free to mail us at themommytale@gmail.com