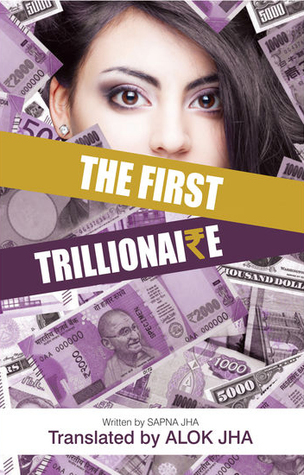 The First Trillionaire by Sapna Jha
I love reading Fiction and for that was exploring new books over the internet, I picked this book.
The book is a fictional story of an Indian Girl. The story has a struggle of a single parent and her only daughter. The story is of a Poor Village girl who is unaware of the dazzling world of social media. A girl with no solid foundation of Education but has big dreams. Her life changes In order to achieve those dreams.
My favourite character in the book is Shail the lead character herself. She is positive, Ambitious and a born struggler. Despite her not so good education and family background, she motivates herself. Her firm belief in almighty, goddess Durga and positivity towards life helps her in coming out of all dangers and problems. Be it the kidnappers, or exposing big money launder, achieving the position in the bank and becoming rich. I just love the use of Hindi in the writing style and narration. The Author has fitted all words so well and has made me happy and feel close to the characters as if I was watching them perform live – in front of my eyes.
Some scenes kept me in a good suspense whereas few scenes just beautifully expressed. Relationships and their articulation are grandeur.
The book is a complete package of struggle, love, Faith, Power and Crime for fiction story fans.
Honestly, the portion where Vanashree was introduced and the story went to the past of Shail was a bit long and made me feel little bored.
Mafia and Kidnapping, Technology and Social Media, Politics and Relegion are the aspects which lead the story with twist and turns.
The Climax of the Plot has been just perfect with all the cards falling into their places. Achievements, Dreams, Romance and Family drama nothing were left untouched.
I would definitely recommend the book to the fiction readers, to young readers and to each and every person who has faced or facing some struggle in life. The book is the perfect example, which guides you to fulfil your dream by keeping your hopes high, self-motivation and strong faith in the almighty.
I would like to rate the book as 4.5 stars out of 5 stars.
Would love to read more books from Ms. Sapna Jha in future, I wish her all the best.